{{ timeAgo('2021-01-14 08:26:13 -0600') }}
football
Edit
More on Chapin's football prospects
Chapin High has four high-level prospects to watch in the 2022 program and beyond. Justin Gentry's squad has sent numerous prospects to the next level in recent years, and this crop will be next.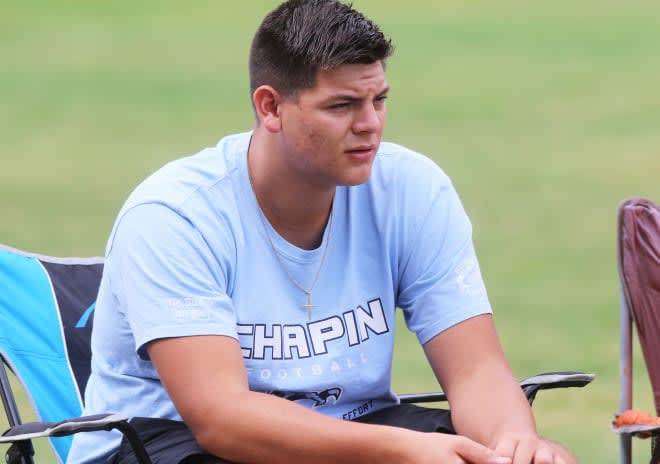 *** Chase Sweigart, a 6-foot-6, 305-pound offensive tackle, has continued to develop nicely and has seen a "nasty streak" blossom on the field as well. He was voted an offseason captain for the Eagles and has collected numerous recognitions: 5-A All-State and All-Region in 2020, plus he was named the team's most improved offensive player.
*** Athlete Bennett Galloway, also from the 2022 class, is another offseason captain for Chapin. The 5-foot-11, 190-pounder was a 2nd-team All-State selection for 5A and was also an All-Region player. He racked up 14 touchdowns and 867 yards on 151 carries and a total of 1,779 all-purpose yards. Galloway can catch the ball out of the backfield (22 catches) and is a skilled returner, having tallied a pair of scores on returns.
*** Wide receiver Zavier Short was the Region 5-5A Player of the Year and another All-State selection for the Eagles. Coach Gentry favorably compares him to a slew of other highly-ranked and highly productive wide receivers to have come out of the Palmetto State in recent years. For his career, Short has 147 catches, 2,350 yards, and 28 touchdowns. Colleges looking for a talented wideout with leadership ability should be knocking at the door here.
*** There's another to watch for the future at Chapin as well; 2024 quarterback Jayden Bradford. He played in 8 games this season, splitting time in 4 of those. He's a hard worker and a playmaker on the field. For the season, he passed for 916 yards and 7 touchdowns in addition to 122 rushing and 3 scores on the ground.